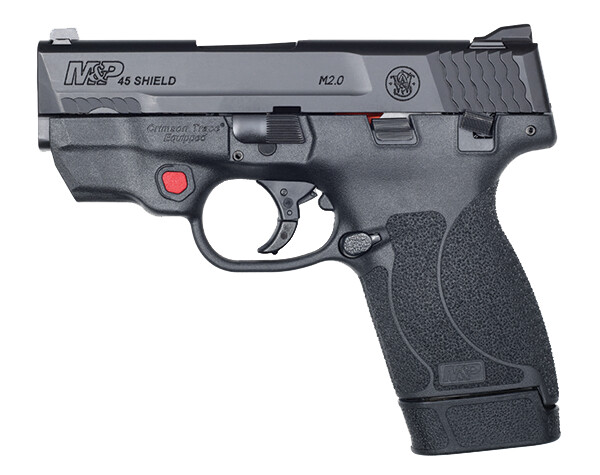 Smith & Wesson Shield 2.0 9mm Crimson Trace Red Laser 11637
SKU 75054
Product Details
Smith & Wesson Shield 2.0 9mm Crimson Trace Red Laser 11673
Description
This is a top concealed carry option for all types of shooters. The 2.0s are made to out-perform the original. By simply adding more steel in the frame to add rigidity, texturing the grip for a more aggressive hold, and cleaning up the dreaded original M&P trigger. Chambered in 9mm also makes this a powerhouse of a carry gun, and will not beat you up or cause fatigue. The aggresive grip texturing will have you hanging on easily even in the most adverse conditions. This model is made with an integrated Crimson Trace red laser that has a solid beam and strobe setting.
The reality of protection is that you never know when you'll need it. We took the power and features of our full sized M&P pistols and put them into a slim, lightweight pistol the size of your hand. The M&P SHIELD is an easy to conceal pistol that offers professional grade features with simple operation and reliable performance day or night. One million SHIELD owners can't be wrong.

Features
• Integrated Crimson Trace® Red Laser
• Incorporates the design features of the M&P M2.0 line of firearms.
• Aggressive grip texture for enhanced control.
• New M&P M2.0 crisp trigger with lighter trigger pull.
• Tactile and audible trigger reset.
• Extremely thin and lightweight - can be comfortably carried all day.
• M&P's patented take-down lever and sear deactivation systems allow for disassembly without pulling the trigger.
• Includes 2 magazines:
• One 6-round magazine.
• One 7-round extended grip magazine.
• Optimal 18-degree grip angle for natural point of aim.
• Armornite® durable corrosion resistant finish.
SPECIFICATIONS
SKU: 12087
Model: M&P®45 SHIELD M2.0™ Integrated Crimson Trace® Red Laser Manual Thumb Safety
Caliber: 9mm
Capacity: 6+1, 7+1, 8+1
Safety: Thumb Safety
Barrel Length: 3.3" (8.4 cm)
Overall Length: 6.5"
Front Sight: Steel - White Dot
Rear Sight: Steel - White Two-Dot
Action: Striker Fire
Grip: Polymer
Weight: 23.2 oz / 657.7g
Barrel Material: Stainless Steel - Armornite® Finish
Slide Material: Stainless Steel - Armornite® Finish
Frame Material: Polymer
Purpose: Concealed Carry, Personal Protection
Categories:Semi Auto Pistols
Condition: New
Manufacturer: Smith & Wesson
Model: Shield
Caliber: 9mm
SKU:
MPN: 11637
UPC: 022188875140
Texas residents will need to pay a sales tax of 8.25% on merchandise total, excluding freight.
Use of credit cards incurs a 3% fee against the total bill (freight included.)
If purchased locally, the buyer will need to follow all current ATF rules. I am a current FFL holder. No buying without a background check unless you are a holder of a CHL or LTC. No third- party sales. No trades.
If shipped, the firearm GO to a current FFL holder. After payment, have your local FFL email a copy of their license to admin@mjrweapons.com. Shipment occurs immediately after receipt of FFL and funds clear.
All warranties go back to the original manufacturer. Refunds will be made only if an item is misrepresented or description is misleading to the average gun owner. The buyer incurs return shipping costs unless prior approval.
I honor a 3-day inspection policy. The time starts from the receipt by your FFL. Once the weapon is picked up by the buyer, the inspection period is over, regardless of when the gun was received. Check the gun over before accepting it from the dealer or licensee.
No shipping to California, New York, New Jersey or any other state where the weapon is not legal. You, the buyer, need to know what is legal in your state and what the local firearms law are. If you are unsure, ask a local dealer BEFORE placing a bid or buying.Shipping to anywhere but the continental 48 states will be actual shipping charges.
Save this product for later